Imagine an environmentally conscious future surrounded by surfaces with effective hygienic protection, which positively affect the environment, without the need for chemicals! All of this can be achieved with the help of Resysten's internationally recognized materials science research. Innovation and sustainability go hand in hand – this is the motto of Resysten's research and development activities.
The development of Resysten
We are creating a world where cleanliness can be achieved without using traditional cleaning products that use environmentally harmful chemicals.
Based on extensive international scientific results, we formulated the goal of creating a sustainable hygienic coating of unprecedented durability.
In 2014, we started to develop the unique properties of the phenomenon of photooxidation into a durable product that can also be used on an industrial scale, which can bring about a revolutionary change in the market of hygienic coating systems.
After several years of persistent research and testing, the unique material composition was born, which formed the basis of the first generation of Resysten coating systems. We are currently using the 4th generation coating system, which is even more efficient in all its parameters. In terms of its packaging, it is a more environmentally conscious solution than ever before in the field of long-term cleanliness and hygiene.
As a result of our latest developments, we now offer our partners not only a long-lasting hygienic coating but also self-cleaning coatings that help reduce pollution caused by urban smog.
Over the past years, our developments have been honored with numerous domestic and international business and professional awards.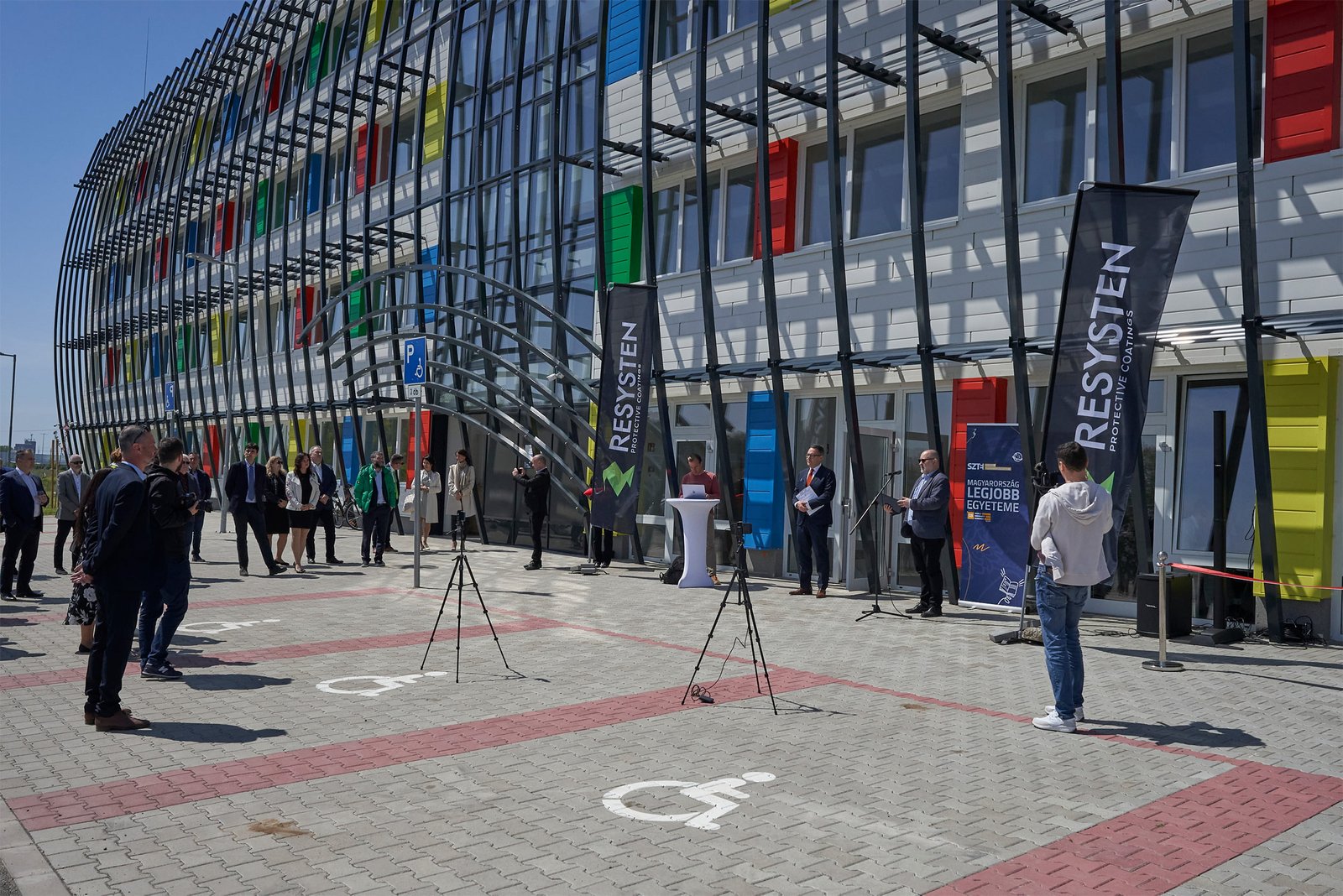 Resysten
research and
development
laboratory
Most coatings on the market today are white-labelled versions of a paint additive. Resysten is in the unique position of having its own R&D department linked to centers of scientific and academic excellence from across Europe, ensuring we own the science behind our coatings and are in a position to improve and adapt to any new situations.
The University of Szeged, notable alumni are the Noble Prize laureate Albert Szent Gyorgyi – the discovery of Vitamin C and, more recently, Katalin Kariko, who was instrumental in developing the Covid-19 vaccines.
Resysten's laboratory and production unit are located at the European Union-funded technology park that is part of the Szeged University campus.
University of Ulster, United Kingdom and Northern Ireland
Extensive testing on Resysten on Hospital anti-microbial resistant superbugs, MRSA
University of Queens, United Kingdom and Northern Ireland
Extensive testing on Resysten Clean Air product. Clean Air is a new innovative product created by Resysten that reduces the levels of NOx in the air.
Kaunas University of Technology, Lithuania
The two-year project, funded by the European Union, focused on extensively testing Resysten's durability, anti-viral and anti-microbial activity with a distinct marker added to the coating to track its durability.
Our developments are reviewed and certified by internationally recognized, independent, qualified laboratories and university researchers.
Resysten provides continuous disinfection for up to 12 months from just one application on any type of surface, ensuring pathogens do not have a place to survive, grow or lead to bacterial or viral outbreaks. Classified as a PT2 disinfectant by EU authorities, Resysten is used in various sectors where hygiene is critical.
With offices in Asia, north America and Europe, get in touch with us at Resysten International
HUNGARY
+36 30 663 1061
Forwarders Plaza,
H-2045 Törökbálint,
Tó park utca 3.
USA
+1-833-RESYSTEN
+1 212.256.8434
RESYSTEN INTERNATIONAL
0040744873340
71-75 Shelton Street,
Covent garden,
London WC2H 9JQ, UK
RESYSTEN GREATER BAY AREA
+853 6288 9788 (macau/hk)
+36 30 5868 074 (whatsapp/international)
409 Av. Da Praia Grande Macao
21/F., China Law Building
Macau SAR